Dr. Sabrina Mazza
Academic Support Office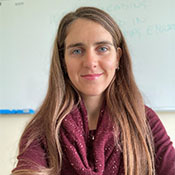 Expertise area
Languages (Italian native; Fluent English & Spanish; Basic/intermediate French and Portuguese), Foreign Literatures, Teaching, Communication, Management, Human Resource, Hôtellerie, Tourism, Sport.
Education
Bachelor in Foreign Languages for the enterprise management, University of Perugia. Master in European and Extra-European Languages and their cultures (Spanish & English), University of Catania.
Professional
Specialist in languages: Italian, English, Portuguese. Communication and public relations management. Head of international student support office.